Spend your vacations in the peace and quiet of a private estate only a short walk away from the sea.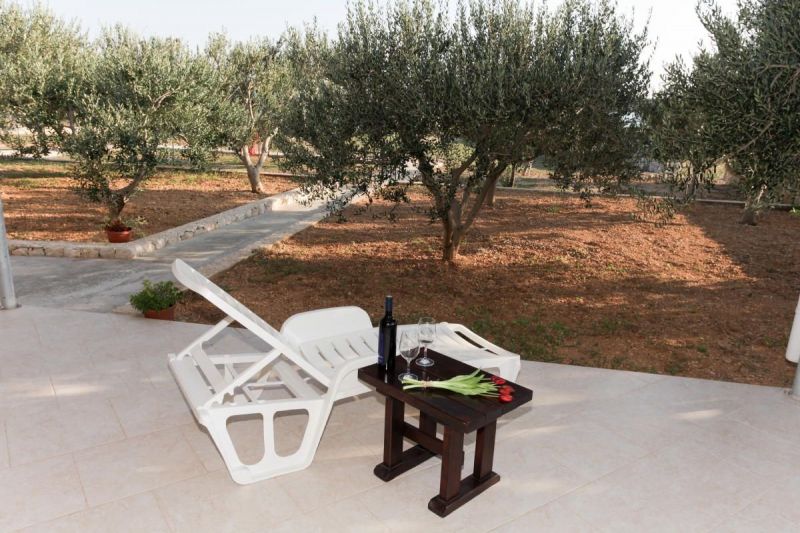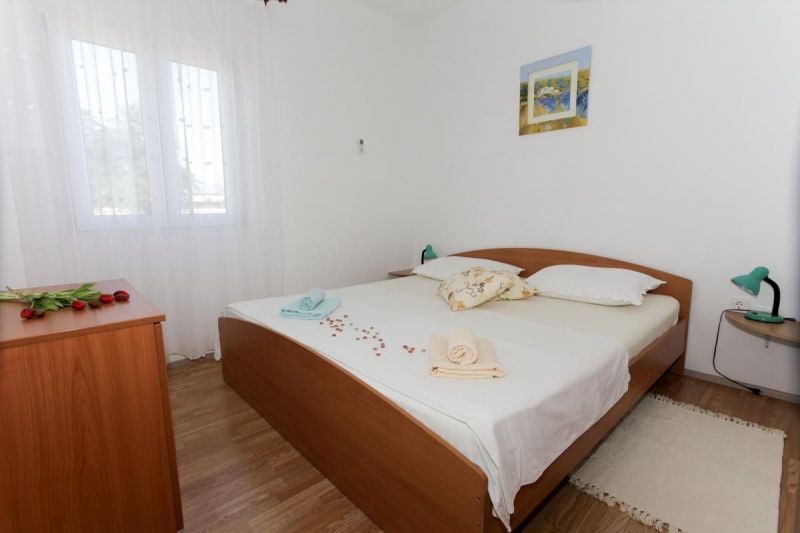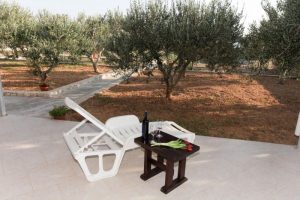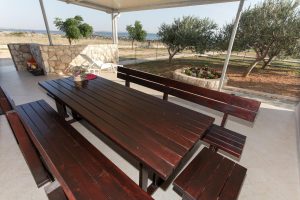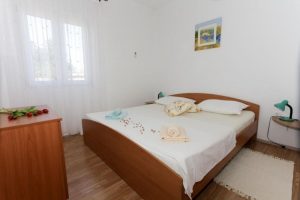 Holiday home

direct access to the sea


area of 1,000 m2

12 persons

Parking assured

Internet
When you close your eyes and think of words like peace, seclusion, amazing landscape, lapping waves… what comes to mind? You don't have to overthink it, because the Irena Holiday Home has all of that – and much more.
The Irena Holiday Home, situated on a private lot amidst the exquisite and almost unreal rural island landscape of Pag, not far from the community of Košljun, will give you an unforgettable vacation.
All you have to do is throw a beach towel over your shoulder and walk a few steps to the beach. Sounds perfect, doesn't it?
Type: vacation house
Rating: 3*
Levels: single/ground floor
View: yard and terrace overlooking the sea
Total area: 1000 m2
Added feature: 30 m2 grill area covered by a solid canopy
Bedrooms: 5
Kitchens: 2

Living room: 1
Bathrooms: 5

Separate toilets: 5

Terrace or veranda: 1
Yard or grounds

Direct beach access

Outdoor shower

Spare beds: 2
Double beds: 5
This fully equipped holiday home only 50 m from the beach, with 5 air-conditioned bedrooms and bathrooms, as well as a terrace with an exquisite view of the sea and the Velebit massif, is a perfect choice for all of those who want privacy and every comfort.
The Irena Holiday Home can accommodate 12 people. It consists of three suites in a single housing unit. Guests have two superbly equipped kitchens at their disposal. The house also comes equipped with a washing machine, dishwasher, oven, barbeque grill, and parking.
The 80 m2 terrace is ideal for a relaxing evening with a view of the sea in peace and quiet as the sun sets.
Next to the house there is a fully equipped covered barbeque area with a spare kitchen. It covers an area of 35 m2, so everyone can sit around the grill.
We have ensured that the beach has everything you need for enjoyment: sun-bathing, shade, beach chairs. You have a paddle-boat and kayaks at your disposal so that you can explore the lovely cove where the house is situated. If you have a boating license, you can take one for a ride around the cove.
Even though you are in a tranquil environment, you're still not disconnected from the world. You have online connectivity in the house and on the beach.
GENERAL

Air-conditioner
Heating
Digital TV + SAT
Washing machine

Indoor barbeque
First aid kit
KITCHEN
Utensils
Refrigerator

Oven
Electric range
Gas range
Dishwasher
Microwave oven
Coffee-maker
Toaster

Water boiler
High chair
BEDROOMS

Linens

Air-conditioning

Infant/toddler bed

Spare bed
BATHROOMS

Shower stall
Towels

Hair-dryer
To this perfect list we'll just add one thing: the sunset that you experience on the island of Pag is one you'll never forget.
Check availability for your next vacation.